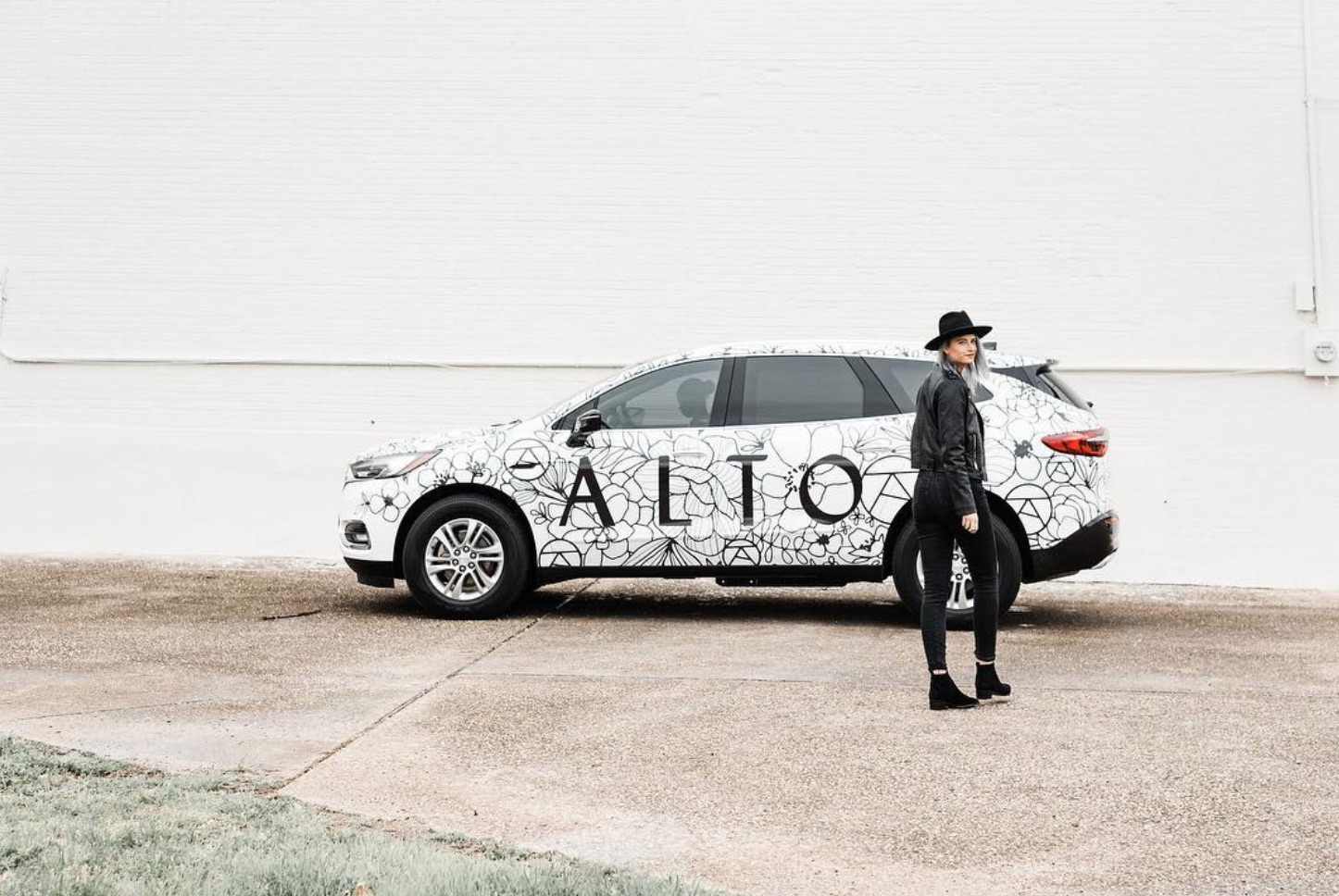 Alto is the hottest ride-sharing company. You've probably heard of the Dallas-based app that lets you choose anything from the car's playlist, have a little chat with the driver, but have you seen it lately? Alto has partnered with local artists to create "art cars" with eye-catching designs and millennial bonuses (like a selfie station in the back seat). This weekend it presents its latest creation by the muralist Mariel Pohlman in Flea Style.
The special art cars are shuffled into Alto's fleet and randomly assigned to unsuspecting drivers so you never know when you'll get one. So far in June, the company unveiled a Pride Car, a car that supports the Ashford Rise School in Dallas, and an Alli K Design art car called a selfie phone. Alto plans to work with more creatives in the area and bring out two to three new art cars each year.
Alto's new car from Mariel Pohlman.
The newest ride will be hard to miss on the streets – the entire body is covered in a bright patchwork pattern. Pohlman, who I spoke to last week about her work on the Wild West Mural Fest, has large-scale works across town, like the fortune cookie slipping off the Katy Trail and the green walls at Verbena Parlor.
"We've evaluated some artists, some more established, some newer, and we really like where she is in her career. Her name is slowly becoming popular, she is an up and coming character in Dallas and we thought this really fits our brand. We're starting to get recognition, but we're not a household name yet, "said Alexandra Halbardier, Alto's Chief Customer Officer.
Pohlman's newest mobile artwork will be unveiled on Saturday at the 10th anniversary of Flea Style, the Dallas-based artisan and vintage marketplace. While Flea Style now has a stationary location in Deep Ellum, Market Hall is taking it over for its Autumn show, that will bring out more than 150 providers. The car will be there all day if you want to check it out. Otherwise, you'll have to order an Alto and see if you're lucky.